The Chicago Bulls had an up-and-down season in 2017, to say the least. They barely snuck into the playoffs with a record of 41-41 and had to beat out Miami via a tiebreaker. They lost to the Celtics in the first round 4-2 after Rajon Rondo got injured after game two. It was the Bulls first season without Derrick Rose since 2012, and they had recently acquired veterans Dwyane Wade and Rondo in the offseason and they had trouble syncing their games up with Jimmy Butler. All this mediocrity led the Bulls to trade the "face of the franchise", Butler, this offseason in an attempt to rebuild.
Dwyane Wade (SG), Unrestricted (Player Option)
Dwyane Wade is by far the Bulls most relevant and important free agent of this offseason. After deciding to trade Jimmy Butler, Wade is now "the guy" once again. But, this time it is on a team that is focusing on rebuilding. He averaged 18.3 points, 4.5 rebounds and 3.8 assists per game on 43% shooting in his age 35 season. He has a player option for the 2017-2018 season and he has verbally stated that he would pick up that option. This is good for the Bulls as they are trying to evaluate some young talent this year and Wade could provide veteran leadership and stability in the locker room. But, Wade's verbal agreement came before the Bulls traded Butler, so he could decide to change his mind by the time the free agent period begins. The bottom line is that the Bulls would love to have Wade pick up his option, but if he decided to leave the money it would not be the end of the world for a team looking to start the rebuild process.
Michael Carter-Williams (PG), Unrestricted
Carter-Williams looked like he would be a perennial all-star after his first year in the league with the 76ers. In his first NBA game he came close to a quadruple double, he recorded two triple doubles on the season, and was named Rookie of the year after being only the third rookie ever to average a line of 16-6-6. He recorded three more triple doubles in his second year before being traded to the Bucks. Injuries slowed his production down and right before last season he was traded to the Bulls. He was merely a bench player for the Bulls and he suffered another injury early in the year. He averaged 6-3-2 this season. The Bulls did not sign a qualifying offer for MCW so he becomes an unrestricted free agent this summer. By not signing a qualifying offer it seems as if the Bulls do not want him back next season. The Bulls, like many NBA fans are realizing the MCW's first year in the league was a fluke. Some team will sign him this off-season to a short term deal, but he will not be probably will not be back on the Bulls.
Nikola Mirotic (PF), Restricted
In three years in the NBA, all with the Chicago Bulls, Mirotic has not strayed far from a 11-5-1 stat line. He has not started much for the Bulls in his three years but he has been a steady role player and a guy that can stretch the floor in a league where big men shooting the three is becoming ever so important. 35% from three in his career is not something that stands out but it is nothing to scoff at either. Mirotic missed a handful of games this past year because of coach's decisions and being put on the inactive list. This was because they wanted to see what Joffrey Lauvergne could do for them after acquiring through a trade. The missed games towards the end of the season could have been foreshadowing what the Bulls will do with Mirotic this offseason, but with the Bulls in rebuild mode, they should look to retain Mirotic this in an attempt to keep some stability on the roster.
Joffrey Lauvergne (PF-C), Restricted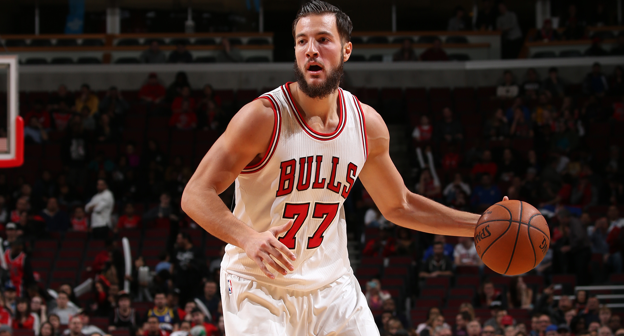 Lauvergne has been traded three times in 4 NBA seasons, he started with the Nuggets and was traded mid season to the Thunder and then the Thunder traded him mid-season last year in the trade involving Doug McDermott and Taj Gibson. The Bulls gave Lauvergne some playing time down the stretch to see what he could bring to the team. In 20 games with the Bulls he averaged 4.5 points, 3.4 rebounds, and 1 assist per game. It is nothing special but he also did not get much time to prove his worth. The Bulls should look to sign him to a one year, prove yourself kind of deal, and see if he is worth keeping in the coming years.
Cristiano Feliciano (PF-C), Restricted
Another guy for the Bulls who did not get much playing time this year. But in two years with the Chicago Bulls, he has shown glimpses of a player that can make an impact in the NBA. He averages 4.3 points and 4.3 rebounds per game in his career and he shoots around 57% from the field. He has shown he can score the ball with multiple 16 point games as well as do the little things, now he just has to do it in a more predominant role. The Bulls should try to resign him this offseason to a team friendly deal and Feliciano should look to stick around in Chicago as well, where it looks like he could get plenty of playing time next season.
Anthony Morrow (SG), Unrestricted
Morrow has played nine years in the league and his best years as an NBA player are definitely behind him. His best statistical seasons were 8 and 9 years ago with the then New Jersey Nets. His last three years in the league have been nothing special averaging around 5 points per game and less than a rebound and assist per game. He only played in nine games this past year, receiving playing time only when the game result was already decided. With Morrow's role clearly being a bench warmer on a team that is clearly rebuilding, he will not get much playing time next season with the Bulls. If no other team offers him a deal during free agency, he might try to resign with Bulls for the minimum, but he could also decide to retire. Morrow is the least of the Bulls worries this off-season.
Comments
comments