With every passing year, the players we as children and young teens grew up idolizing begin to age as we do too. Just this year there has been plenty of notable retirements, the main three coming in the form of Kobe Bryant, Tim Duncan and Kevin Garnett. With a combined 60 years in the league, 11 championships, 4 MVP trophies, 48 All Star appearances, 86,210 points and a grocery list's amount more of accomplishments to choose from, it goes without saying the NBA has lost some of the greatest players to ever lace up on the hardwood. But just as the generation before us did with Michael Jordan, Larry Bird and Magic Johnson & the generation before them with Wilt Chamberlain, Bill Russell and Oscar Robertson, the greats from our generation will eventually move on and make room for the next great generation.
I can't make this list without giving an Honorable Mention to LeBron James. Just missing the cut at 31 years old, LeBron falls into a mixture between my generation and the next generation of fans. Coming into the league at the ripe young age of 18, James is now in his 13th NBA season, while most players who're starting their 13th season are usually in their mid to late 30's bye that time. He's in a sort of in-between stage where he's still super young, but also has put in over a decade's worth of grind on the court and is considered an NBA veteran by most standards. Now we come to the next generation. Please keep in mind that this list is in no specific order.
10. Kevin Durant – 28 years old
One of my favorite players in the game today, Durant is considered by most to be the second best player in the NBA today, behind the aforementioned LeBron James. Standing at a listed 6′ 10″ accompanied by his measured wingspan of 7′ 5 inches, Durant seems to tower over most players listed at a taller height than him. Nicknamed the "Slim Reaper"; Durant may not have the largest frame, but his ability to finish in the paint through defenders combined with his deadly jump shot leaves the opposition at his mercy on the court. It's no wonder heading into his 9th season, he has already accumulated four scoring titles and one MVP award.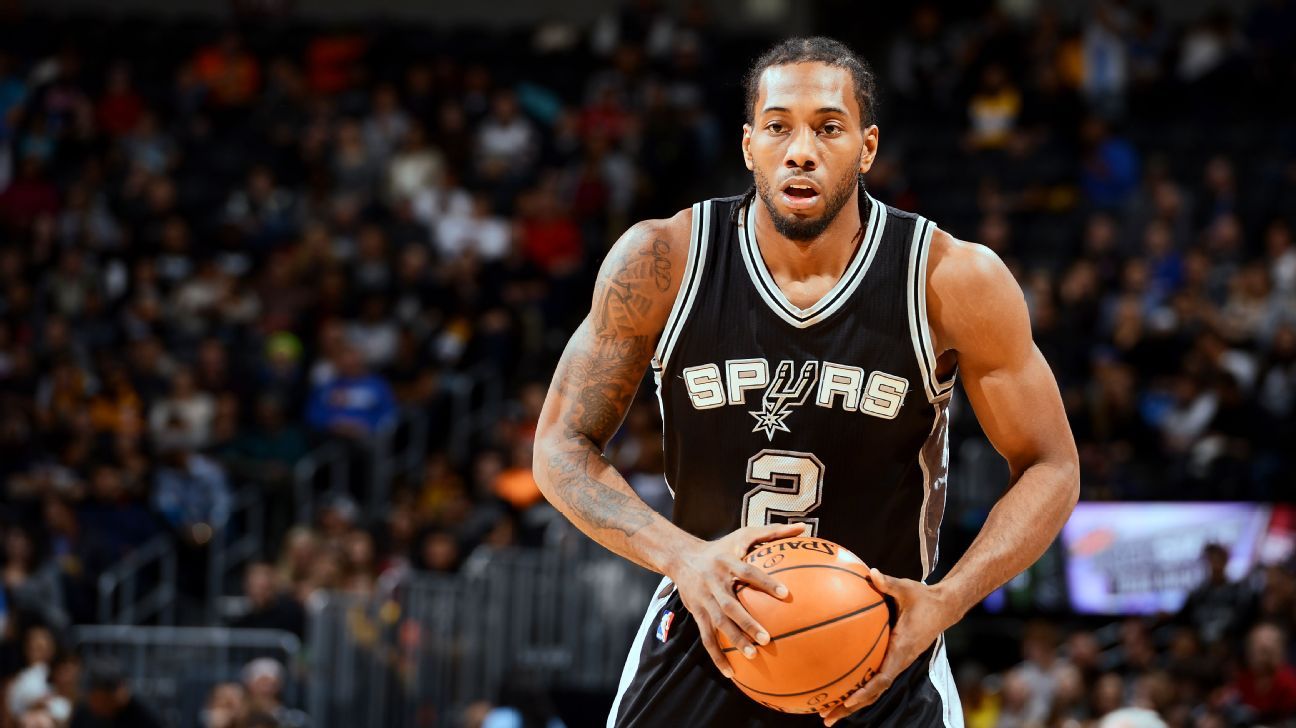 9. Kawhi Leonard – 25 years old
Have you seen this guy's hands? Seriously, stop reading this and google search "Kawhi Leonard's hands" and get a glimpse of these monsters. Measuring at 11.25 inches each, Leonard has the third largest hands in NBA history behind only Michael Jordan and Wilt Chamberlain. After realizing just how massive his hands are, you'll start to piece together why he has been named the Defensive Player of the Year consecutively in 2015 and 2016. His performance in the 2014 NBA Finals against the Miami Heat, more specifically LeBron James, propelled his name into the spotlight, while earning himself the Finals MVP might I add and since then he's been on a tear in the league. I have no doubt he will lead the San Antonio Spurs to glory once again in the future years to come.
8. Klay Thompson – 26 years old
One half of the Golden State Warrior's "Splash Brothers"; Thompson is definitely one of, if not my favorite player in the NBA today. In my opinion he and Jimmy Butler are 1A and 1B when it comes to the best two-way shooting guards in the league. Guarding the oppositions best player on a nightly basis, Thompson has never shied away from taking on that challenge. But his defense fails in comparison to what he brings offensively. Setting the NBA record for most points scored in a single quarter with 37, Thompson has such a beautiful shot that most players wish they could replicate themselves. Recently, he scored 60 points in only three quarters of play, while only having the ball in his hands a total of less than 90 seconds all game. He became the first player to have 60 points in less than 30 minutes of play in NBA history.
7. Damian Lillard – 26 years old
Definitely one of the most overlooked point guards in the NBA today, Lillard has all the qualities you look for in a franchise player. Though he may lack in the defensive area sometimes, he makes up for it time and time again with his ability to score the basketball. Competing in the Western Conference against names like Stephen Curry, Chris Paul and Russell Westbrook, its easy for people to forget just how great Lillard has been in Portland. To start the 2016-17 season, Lillard scored a franchise record 163 points in the teams first 5 games, proving once and for all that he won't be overlooked anymore. Lillard has spoken about going for this year's MVP honor and with the pace he's started with, it could be a tight race come time to vote in May.
6. Anthony Davis – 23 years old
Davis is an unbelievable player that comes along every once in a generation and you just gotta cherish them while they're here. Standing at 6'10", Davis is one of the scariest people to drive into the paint against and is one of the best scoring big men in the NBA today. Leading the league in blocks two years in a row from the 2013-14 and 2014-15 seasons, "The Brow" has shown just how special a player he can truly be. He's been an All Star three years in a row, has 1x All NBA first team selection in 2015 and won an Olympic Gold Medal with Team USA in the 2012 Olympics as a rookie fresh off a National Championship at Kentucky as a Freshman phenom. Unfortunately for Davis his New Orleans Pelicans are currently at 7-15 on the season and it may be awhile before they gain serious title contender status.
5. James Harden – 27 years old
Harden might just be this years MVP if he continues to play the way he's been playing so far. Averaging 28.7 points, 11.6 assists and 7.6 rebounds per game, "The Beard" is doing literally everything for the Rockets this season. With the departure of Dwight Howard this off-season, Harden finally became the undisputed number one option and hasn't looked back since. He is without a doubt the best at drawing fouls in todays game and uses that to his advantage, getting to the free throw line 10 or more times a game on average in 2015-16. His dribble moves and step back jump shot are the envy of players around the league, especially those who fall victim to them. If he doesn't come out with the MVP trophy this year, there's only one person I can think of who will take it away from him……
4. Russell Westbrook – 28 years old
If I could give a nickname to the 2016-17 season so far, it would be "The Year of the Brodie". Westbrook is doing what most players and analysts thought was impossible, the unthinkable feat of averaging a triple double over the course of a season. Only one person has ever done that, the great Oscar Robertson in the 1961-62 season. Currently averaging 31 points, 11.3 assists and 10.9 rebounds per game, I know its only 22 games into the Oklahoma City Thunder's season, but if there is anyone with the motor to continue this remarkable roll, its Russell Westbrook. Always playing at 100 miles an hour was once considered his downfall, but with Kevin Durant's transition to the Warriors this off-season leaving a grudge needing to be satisfied, Westbrook has put the Thunder on his back and will carry them to the playoffs come mid April.
3. Demar DeRozan – 27 years old
The Toronto Raptors loss to the Cleveland Cavaliers was a tough pill to swallow for DeRozan and company in May. After no one gave them a chance to win that series, the Raptors rallied together and almost forced a decisive game 7, but fell short. To prove his loyalty to the team who gave him his shot in the NBA, DeRozan signed a massive 5 year/$139 Million contract extension in July. After helping the franchise win a record 56 games in their 20 year history last year, DeRozan has proven that he was well worth the money this year to date. Currently, DeRozan is averaging 28.0 points, 4.3 assists and 5.2 rebounds per game, all career-highs for the superstar shooting guard. His play has the Raptors sitting in second place in the Eastern Conference right now, only 1 games behind the reigning champion Cavaliers.
2. Kyrie Irving – 24 years old
The man who nailed the go-ahead three point shot to slam the door against the Warriors in the NBA Finals in June, it's truly hard to believe he's only 24 years old. With handles so fast if you blink you might miss it, Irving has made his mark as possibly tied with Stephen Curry for best dribbler in the NBA today. As his alter ego "Uncle Drew" would say, "don't reach young blood" or you just might get yourself embarrassed. In the Cavaliers' four NBA Finals wins, Irving averaged 30 points, 4.5 assists and 4.2 rebounds per game, quieting anybody who thought he was the Robin to anyone's Batman With at least another 13-14 years left in his career, there's good odds this won't be the last time Irving enters a season as an NBA champion.
1.  Stephen Curry – 28 years old
With a shot so pure, it almost looks "Steph-ortless". In my opinion and many, many other's as well, Curry has already established himself as the best shooter in NBA history. There isn't much more that can be said about him that already hasn't. He's the reigning back to back(UNANIMOUS!) MVP, an NBA Champion, the leader of a record breaking/setting 73-9 Golden State Warriors team in 2015-16 and did I mention he's good at shooting 3's? So good in fact, he set the single season record, while breaking his own might I add, of 286 by a whopping one hundred and sixteen makes, raising the bar up to 402 total. He's also one of only seven players to play his way into the 50-40-90 club, where you must average 50% from the field, 40% from behind the arc and 90% from the free throw line for an entire season. Toting an arsenal of space creating dribble moves and the ability to find a way to finish around the rim even with his smaller build, Curry is definitely in the top two or three in regard to scoring the basketball amongst players today.
Comments
comments